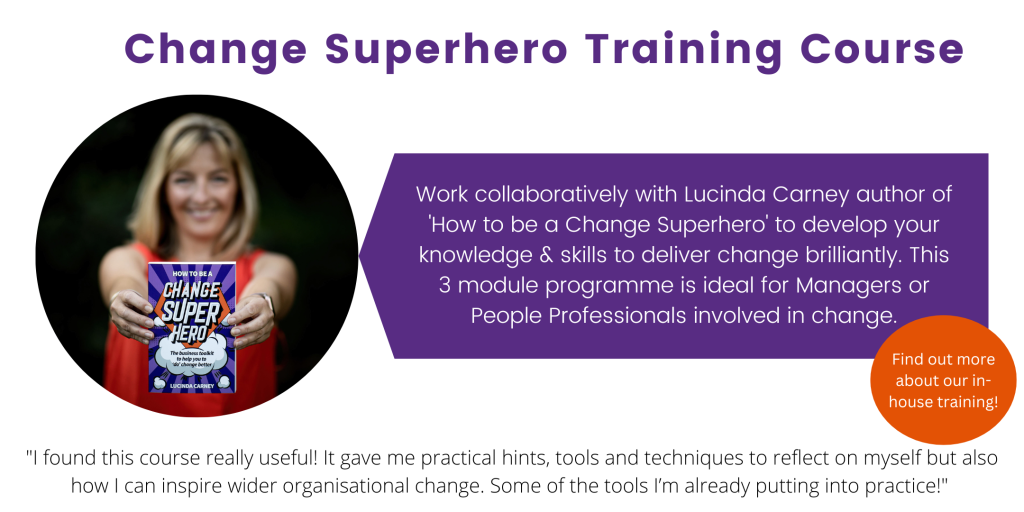 This Episode: Supporting Individuals Through Change
By entering the period of COVID-19 lockdown, we all experienced an intense and sometimes stressful period of change. Indeed, many haven't seemed to consider that we are also headed for another period of change as we transition back to normal life.
In this week's episode, Lucinda discusses her own experience on the change curve. Furthermore, she explores the key points of change and how we go through it. Additionally looking at the possibilities of what the "new normal" could mean.
---
---
Valuable Resources
Key Takeaways
Certainly in the HR sector, change has been drastic and widespread. New laws, methodologies and guidelines have swept in. Consequently, this has caused us to completely re-evaluate our working lives going forward.
Never mistake silent denial for silent commitment. For example, don't assume that someone has bought into something merely because they have not voiced an objection or opinion.
Concerns raised in the workplace must always be at least acknowledged and heard. Indeed, activating a conversation will cause the person to self-regulate through the change curve.
A different future requires a different vision. Certainly, we cannot hope to rush out to a new normality with no changes in place. Look for personal benefits to the many.
Best Moments
'Change is something that's always been with us, but never so strongly as in 2020'
'This is a great opportunity to be a "change superhero" in your own right'
'Dismissal leads to denial'
'We have found ways of being effective. The paradigm has been blown'
About The Host
Lucinda Carney is a Business Psychologist with 15 years in Senior Corporate L&D roles and a further 10 as CEO of Actus Software where she worked closely with HR colleagues helping them to solve the same challenges across a huge range of industries. Certainly, it was this breadth of experience that inspired Lucinda to set up the HR Uprising community to facilitate greater collaboration across HR professionals in different sectors, helping them to 'rise up' together.
"When we look up we rise up"
Contact Method
Subscribe To The HR Uprising Podcast Now: