---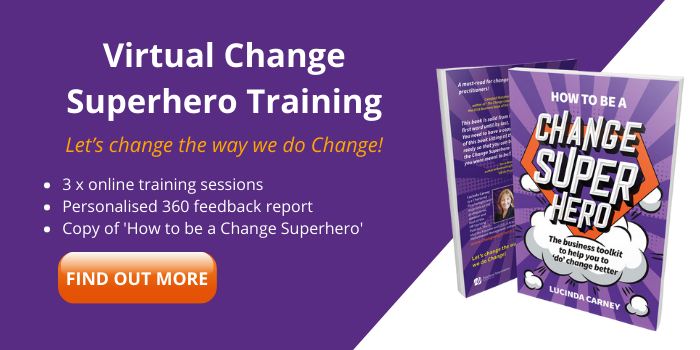 ---
This Episode: Cultural Transformation – Real HR with Sarah Trowell of 7IM
This week, Lucinda is in conversation with Sarah Trowell, Senior People & Culture Partner at Seven Investment Management LLP (7IM), about her award-winning cultural transformation program, her career journey so far, and the innovative practices being used at 7IM in order to create impactful cultural change.
Key Takeaways
There are always things to learn in the HR space. Indeed, there are always ways in which we can improve and innovate, which makes the sector extraordinarily exciting.
Certainly, the five year vision is to create an environment where colleagues feel understood, empowered, and valued, thereby allowing them to deliver an unrivalled experience to clients, and to each other.
Simply providing answers to questions is faster and easier, but is also rather more short-sighted. Also. if we coach others to seek out answers for themselves, we empower them for the better.
Delivering new initiatives are one thing, but adopting them and implementing them on a foundational level, is another. Lastly, to create a successful cultural transformation program, it is not enough to simply come up with new ideas, we have to see them through.
Valuable Resources
The HR Uprising ranked 9th in Feedspot's 'Top 30 UK HR Podcasts You Must Follow in 2021'.
Host of The HR Uprising Podcast, Lucinda Carney, is also the founder and CEO of Actus Software, where you can find additional free HR Resources:
Introducing the new Actus Academy: your on-demand e-learning platform!
Virtual Training Programmes:
Change Superhero Resources:
Best Moments
'I'm genuinely still learning'
'The change from human resources to people and culture is just another example of how, as a business, we are modern'
'The business feels different'
'In swimming up stream and not drowning, you think to yourself, "I can do this"'
About The Guest
Sarah is a modern People & Culture professional, whose career journey originated in the retail sector and now, 10 years later, lays within the Financial Services Industry. She joined 7IM in 2015, and her experience so far in the business has seen her develop from an HR Administrator through to now holding the title of Senior People & Culture Partner.
Sarah delivers impact to her organisation by developing and launching inspired programmes and initiatives across all generalist areas, to include Training & Development, Mental Health & Wellbeing, Reward & Employee Engagement, ensuring that content is aligned to business vision whilst fostering a culture focussed on diversity, inclusivity, recognition and positive staff engagement. She is passionate about personal growth and supporting others on their own journeys; she believes in the power of having a growth mindset and striving to become the best version of 'you.'
Lastly, Sarah lives in Essex with her husband and three year old little girl, and outside of work has a passion for travel, food and wine!
About The Host
Lucinda Carney is a Business Psychologist with 15 years in Senior Corporate L&D roles. Lucinda also has a further 10 as CEO of Actus Software where she worked closely with HR colleagues helping them to solve the same challenges across a huge range of industries. Certainly, it was this breadth of experience that inspired Lucinda to set up the HR Uprising community to facilitate greater collaboration across HR professionals in different sectors, helping them to 'rise up' together.
"If you look up, you rise up"
Contact Method
Subscribe To The HR Uprising Podcast Now: