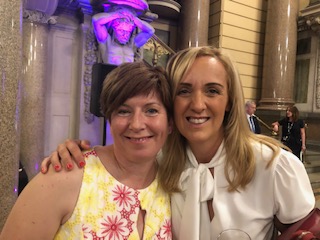 For those who are expecting the Vitality Netball World Cup which will start on the 12th of July, our guest for today might give you more excitement.
This Episode: England Netball – Strategic People Strategies with Debbie Ryan
In this episode of The HR Uprising Podcast, Lucinda interviews Debbie Ryan, the Non-Executive Director for England Netball. Debbie gives us a background on what happens behind the scenes in preparing for this prestigious event. They also discuss the challenges they face as they grow and bring more awareness to the sport of netball.
On top of this, we also hear about Debbie's stories throughout her HR career. Discover why acknowledging people's emotions, reviewing a business's policies regularly, and creating high-performance teams are important.
Key Takeaways
Debbie Ryan was convinced she wanted to pursue a career in HR even at the early age of 16. Her dad was also a major influence in deciding to pursue this journey.
Finding solutions is what motivates her to always do the best for the company that hires her. She's always up for a challenge, whether it be finding new roles or altering the workplace's scene for their best interest.
Every organisation's operations and processes are ever-changing, depending on who leads it. But, what should remain inside the organisation is the sense of managing the people well. Reviewing policies from time-to-time might be needed just to ensure that we take the welfare of every individual into account.
Debbie also emphasises the importance of acknowledging the emotions of everyone. Communicate. Reach out and have a conversation with them.
Netball is a popular sport in some parts of the world. It still needs big changes to have its place in the world of professional sports. Some schools are even having a hard time including the sport in their curriculum or extra-curricular activities because of funding and lack of trained teachers.
Best Moments
"I am driven by challenge. Some people said to me that the bigger the challenge, the more excited that you get."
"They want to come home at the end of the day and be able to say, 'I had a great day at work because I achieved something and I made a difference to someone's day.'"
"Be human and pragmatic."
"Clearly practice that you want to come out and let other people hear it."
Valuable Resources
About The Guest
Debbie Ryan is the Non-Executive Director of the England Netball, the national body for the sport netball in England. Debbie also has years of experience and expertise in HR. She has helped organisations and businesses create high-performance teams, improve employee engagement, increase leadership, and lead transformation programs.
About The Host
Lucinda Carney is a Business Psychologist with 15 years in Senior Corporate L&D roles and a further 10 as CEO of Actus Software where she worked closely with HR colleagues helping them to solve the same challenges across a huge range of industries. It was this breadth of experience that inspired Lucinda to set up the HR Uprising community to facilitate greater collaboration across HR professionals in different sectors, helping them to 'rise up' together.
"When we look up we rise up"
Contact Method
Subscribe To The HR Uprising Podcast Now: